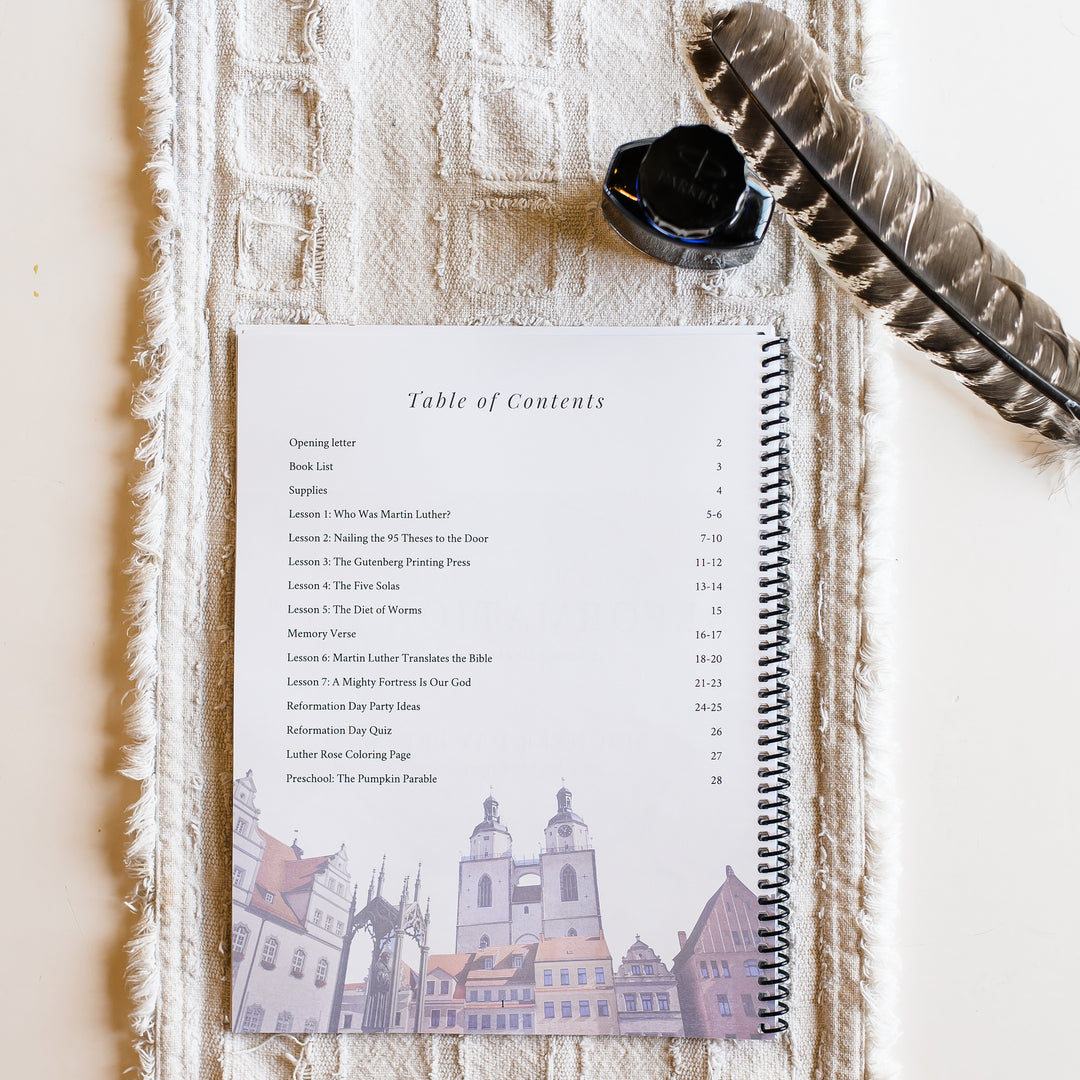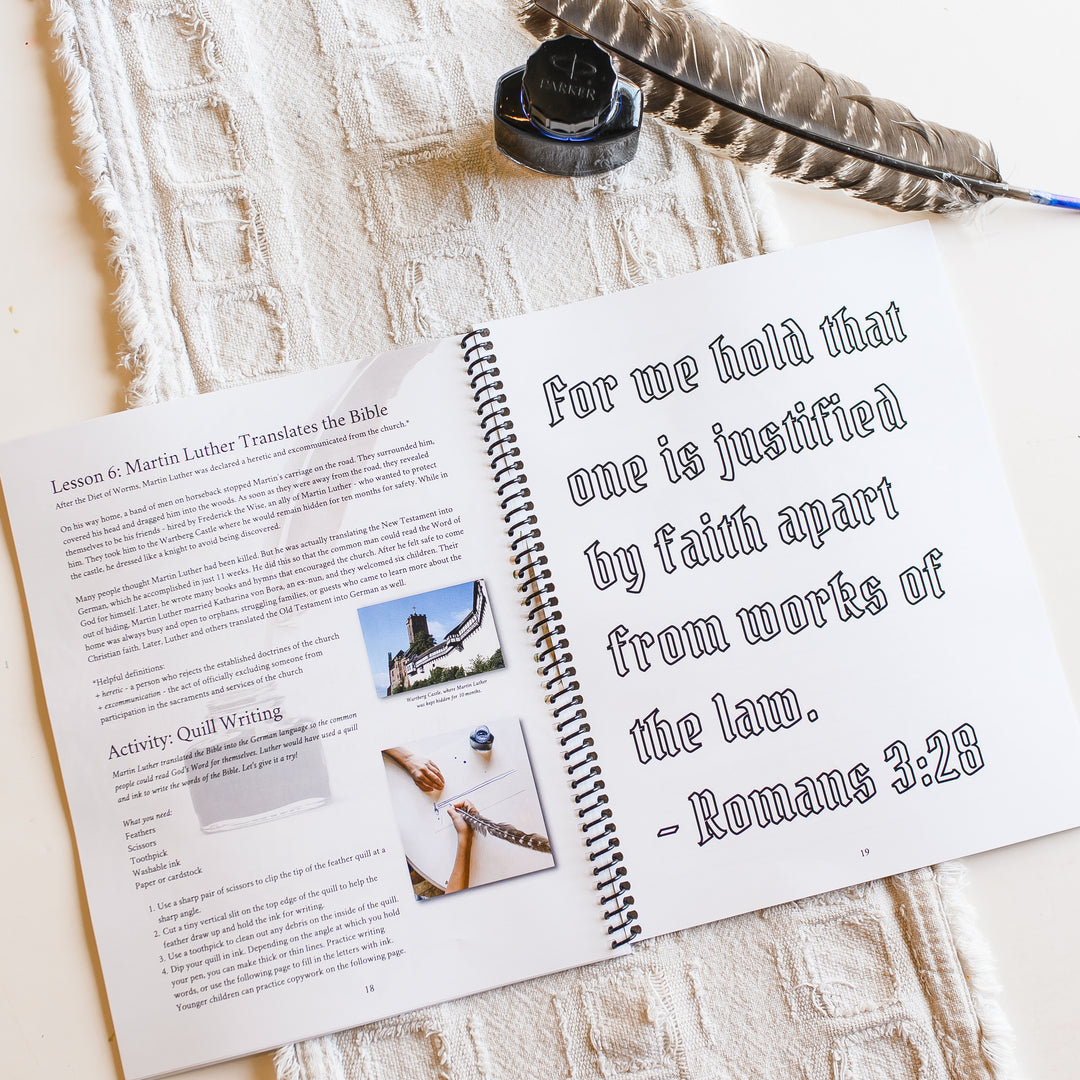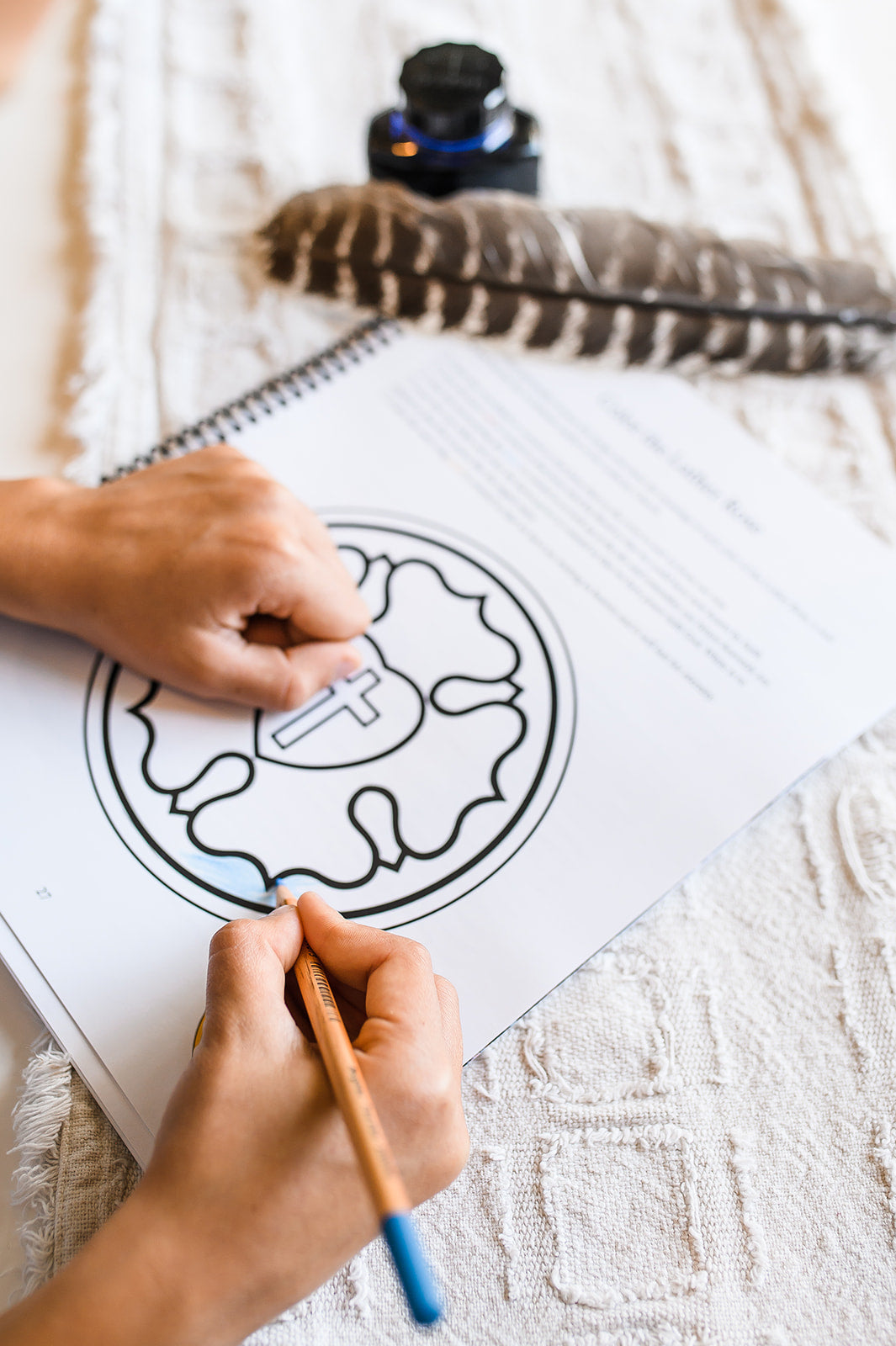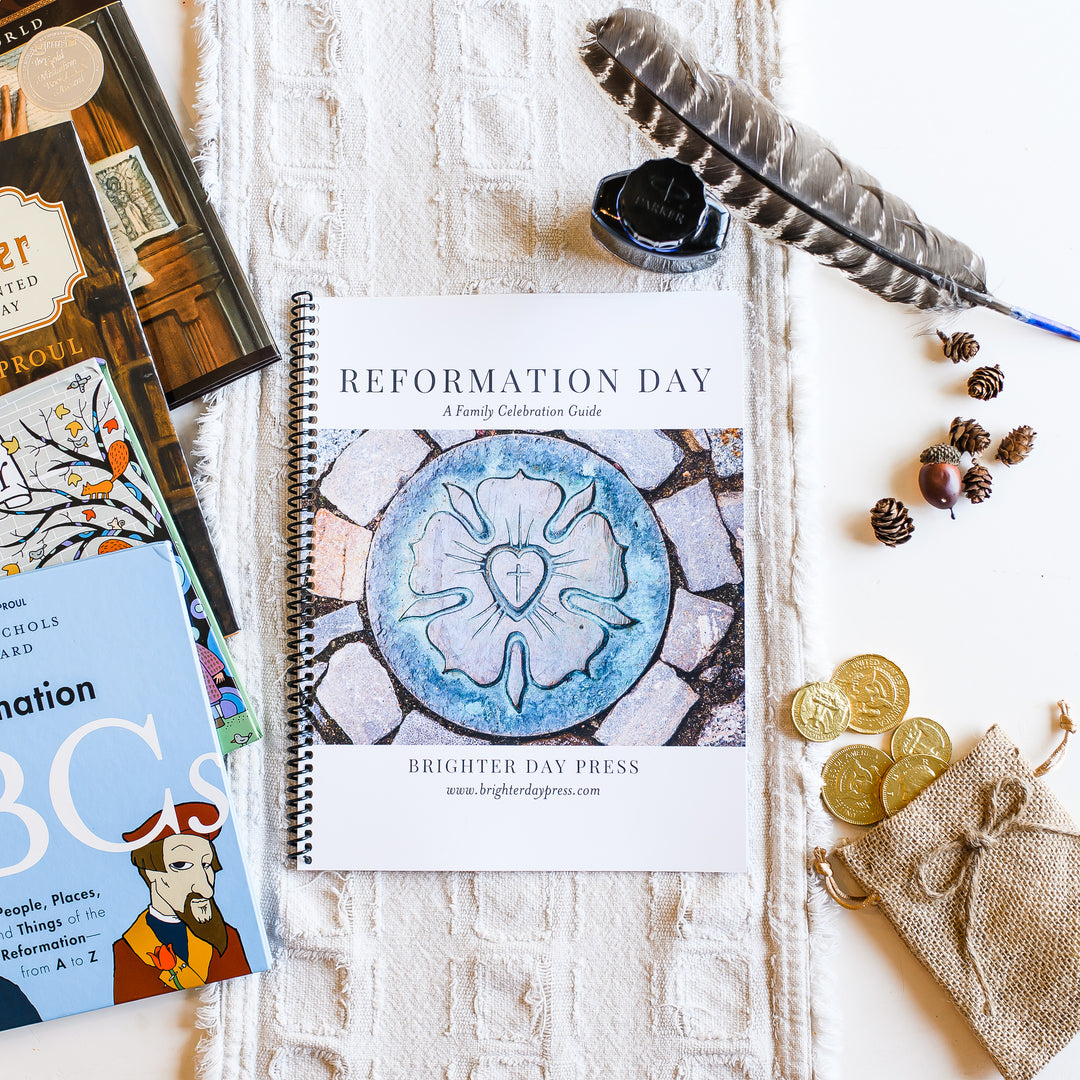 The Reformation Day Guide
Regular price
Sale price
$18.00
/
---
In stock, ready to ship

Inventory on the way
Did you know that this day isn't just Halloween, but a pivotal day in church history? Let's celebrate the Protestant Reformation together this October 31st!
This 30-page Reformation Day guide includes:
- 7 interactive history lessons about the life and work of Martin Luther, the start of the Protestant Reformation, and the invention of the Gutenberg printing press that helped his message spread like wildfire
- Theological concepts - including the Five Solas - that help us understand the main points of the gospel and where they're found in Scripture
- Games, activities, and recipes
- Reformation Day Party plans!
- An instrumental version of A Mighty Fortress Is Our God
- For preschoolers: a meaningful pumpkin carving lesson that presents the gospel in a simple but profound way
What ages is this for? 
This is a family-style guide meant for elementary age children and their families. Older and younger siblings can certainly participate in the readings and activities. 
How long is this guide? 
This guide could be used for the final week of October, or you could pick and choose lessons and projects to focus on and use it on Reformation Day (October 31). 

Printed book: This printed guide is coil bound and features beautiful soft-touch laminate covers, designed to last.  Will ship in 1-2 business days from purchase. When purchasing the printed guide, you'll also receive a digital download to the email address you provide!
Digital download:

 You'll

 receive an immediate digital download of the guide to the email address you provide. No physical book will be sent. You may print these files or have them printed at a local print shop. 
---
Reformation Day Guide is a great choice!
I'm so impressed by the Reformation Day guide! This is going to be a sweet addition to our fall homeschooling. I've always wanted to study the Reformation with my kids, and this guide makes it possible & doable.
Great lesson ideas for the reformation
Im very pleased with the reformation day guide. Very nice quality paper, beautiful printed pages, and very versatile lesson ideas with fun crafts and snacks.
Great Resource for Christian Families
What a GREAT resource for Christian families who choose to recognize Reformation Day in lieu of the typical Halloween celebration. This guide is jam packed with thorough historical research, recommended literature to read along, and fun activities your kiddos are sure to enjoy. (We especially love the Diet of Worms recipe for a fun play on words). I'm always impressed with the quality and beauty of Whitney's resources, but this is one of our favorites... especially because options for an age appropriate unit study on the Reformation and Martin Luther are hard to come by.
This guide is perfect!
This Reformation Day Guide is absolutely perfect!
This year is our first year using it for preschool and I find it to be very easily adaptable to this age group and we'll definitely be using it for years to come and expanding further each year. This is a great beginners guide as I'm learning more from it than my preschooler. I could see this guide working for ages 3-12 and is perfect for family style learning!
You will be so happy you got this!
Enjoyable and Biblical!
The first holiday guide I got from BDP was the Thanksgiving guide and I was blown away with the quality of it! I've been buying every holiday guide ever since! The reformation day guide has enough content that you can make it your whole study for the week, or you can use it to supplement your curriculum. I love having a resource to use instead of anything halloween. Thank you for letting the Holy Spirit work through you to create these resources! They are a blessing to our homeschool.